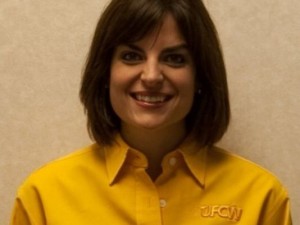 The UFCW family is happy to announce that Brigid Kelly of Local 75  won the Democratic primary for Ohio's 31st House District last week. This outcome is a win for the working people of Ohio.
UFCW International President Marc Perrone released the following statement in response to Brigid's victory.
"Brigid Kelly's primary victory in Ohio's 31st House District is a proud moment for the entire UFCW union family and every hard-working family. For years, Brigid has worked tirelessly at Local 75 to bring members and their families a better life.
"During this tough fought election, Brigid made the right decision to focus on real work-life issues, like paid leave, stronger schools and a promise to hold bad acting corporations accountable. And, by doing so, she sent a message to all of Ohio that when you champion a better life for families and working people, we all win.
"There is no question that she will serve the people of Ohio's 31st House District with the same dedication and commitment that she brought every day to her Local 75 family.
"We congratulate Brigid on her hard fought campaign and look forward to having one of our own fighting for hard-working families in the Ohio Legislature."