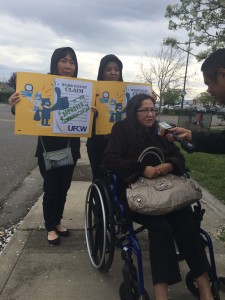 On March 10, the California Making Change at Walmart team held a press conference at the Walmart in Union City, Calif., to highlight one former Walmart worker's struggle to get the company to fairly compensate her after an injury at work. Maria Umali worked in customer service at Walmart for 16 years until she broke her hip on the job. She is now wheelchair-bound and unable to move around much, but Walmart is refusing to pay for an at-home health aide and necessary medical equipment.
The press conference was attended by supportive Walmart workers; Alameda County's District Two Supervisor Richard Valle; a representative from California Assemblymember Bill Quirk's office; a representative from California Senator Bob Wieckowski's office; and Pastor Kurt from FAME.
In a statement, Assemblymember Quirk said, "A responsible company provides safe working conditions for its employees. A responsible company provides fair compensation for its employees in those unfortunate conditions where accidents do occur. But Walmart is not a responsible company."
Quirk added: "Maria is not alone. Walmart needs to step up and take responsibility for workers injured on the job."
At the conference, Maria said, "I was a dedicated Walmart employee for 16 years. I liked my job but I don't think I will ever be able to work again after my injury. I can barely afford to pay my medical bills, let alone pay for the home nurse that I need after my partner's death. I just want Walmart to do the right thing."
Click here to watch an interview with Maria from the press conference, and click here to sign a petition that asks Walmart to ensure that workers are safe on the job, and that people get the proper care if they are injured at work.