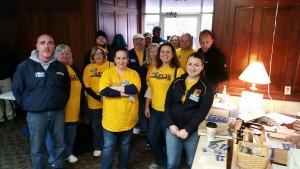 Members from UFCW Local 227 helped to propel three pro-worker candidates to victory in Kentucky's Special House Elections last Tuesday. These wins ensured that the Kentucky House will remain controlled by pro-worker legislators who are committed to raising wages and keeping "right to work" out of the Bluegrass State.
By canvassing, phone calling and having worksite conversations, Local 227 successfully convinced thousands to vote in the special elections for candidates who will stand up and fight for the issues that matter the most to our hard-working members.
Bob Blair, president of UFCW Local 227, was proud that working families were able to win in spite of outside groups dumping large amounts of money into the special elections.
"Kentuckians stood strong against the attacks on hard-working men and women that have taken money out of the pockets of families and put on-the-job safety at risk in so many other states. We are a family, and we work hard for Kentucky families to have a better life because they've earned it," said Blair.
Major media outlets throughout the state credited labor unions like Local 227 for energizing so many voters to participate in the election. The Louisville Courier-Journal, the largest paper in Kentucky, had this to say about the election:
"Conventional wisdom is that much of the bite has been taken away from the state's labor unions as voters more and more cast ballots on social issues rather than their pocketbooks. But with the GOP nearing a takeover of the House and promising to pass so-called "right-to-work" legislation – which would allow people to work in union shops without paying union dues or representation fees – the unions were energized, especially in northeastern Kentucky where voters witnessed what has gone on in West Virginia with passage of such laws."
With the stakes so high and so much on the line, Local 227 members in Kentucky proved that by working together, our union family can accomplish truly great things.