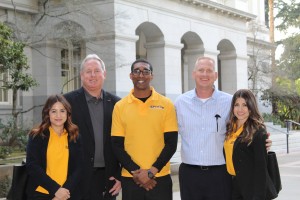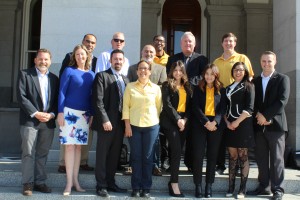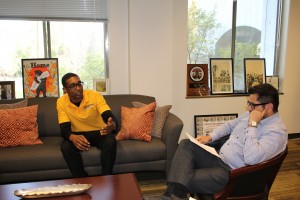 On February 24, UFCW members and leaders from across California traveled to Sacramento to participate in the first lobby day of the year.
While at the Capitol, UFCW members thanked state legislators for their strong support of AB 359, the Grocery Worker Retention Act, which became law on January 1st of this year.
Members also highlighted legislation the UFCW is co-sponsoring and supporting for the 2016 California State Legislative Session. This year, the UFCW is hoping to see California pass AB 67, the Double Pay on the Holiday Act, and SB 878, the Reliable Scheduling Act.
The Double Pay on the Holiday Act will guarantee that employees who work on Thanksgiving or Christmas Day will be paid double time. The bill is meant to honor every hard-working person who has to spend part of the holiday season at work and away from their families.
The Reliable Scheduling Act will give workers greater security by ensuring that they have adequate notice of their work schedule. This bill requires employers to post a monthly schedule at least one week in advance so that workers know when they will work, what their shifts will be, and how many hours they will have.
UFCW members in California are determined to build on the progress of last year and see both of these bills pass.