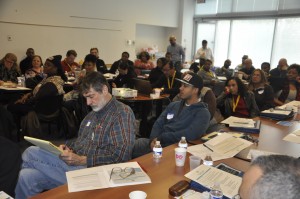 On February 17, UFCW Local 1994 Municipal and County Government Employees Organization (MCGEO) hosted an organizing training for over 45 active members and shop stewards. Local and International staff also participated in the training. All the participants were given the opportunity to share and practice skills learned the day of the training during their interactions with unorganized workers.
"It is our intent to train as many shop stewards who are willing to be effective organizers in the workplace," said Local 1994 Secretary-Treasurer Yvette Cuffie. "We also recognize that we cannot grow our union with staff alone. We need our rank and file leadership to step up as you have experienced personally the benefits and protection of what a union contract provides for you and your family."
In the days following the training, members conducted a site visits and house calls to unorganized workers in Montgomery County, Md.