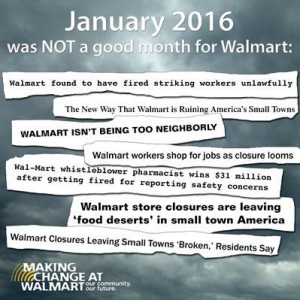 January was a tough month for Walmart, and Making Change at Walmart (MCAW) made it even tougher for the retail giant as it announced the closure of 269 stores and lost a major NLRB ruling.
On January 15, MCAW responded to Walmart's announcement that it was closing 269 stores worldwide, including 154 in the United States. These closures affected 10,000 U.S. employees.
"Walmart is a company that, time and again, will say one thing and then do the opposite. Public relations matters more to them than their customers, the community, or their employees," said Jess Levin, communications director for MCAW.  "While it pretends to value its employees, the reality is, for Walmart, its workers are disposable. Sadly, these latest store closings could very well be just the beginning. This sends a chilling message to the company's hard-working employees that they could be next – and with no one standing up for them, that is no doubt the reality."
"Now more than ever, Walmart's workers must work together to change Walmart for the better. Clearly, the livelihoods of all Walmart employees depend on it," Levin added.
On January 21, MCAW released the following statement in response to the NLRB ruling by an administrative law judge which stated that Walmart retaliated against workers for participating in strikes.
"Today's decision proves beyond doubt that Walmart unlawfully fired, threatened, and disciplined hard-working employees simply for speaking out," said Levin. "Not only is this a huge victory for those workers and Walmart workers everywhere who continue to stand up for better working conditions, but it sends a message to Walmart that its workers cannot be silenced. We will continue to fight to change Walmart for the better."
The ruling states:
Walmart must offer 16 former employees full reinstatement to their former jobs.
Walmart must give those 16 former employees back pay.
Walmart must hold a meeting in 29 stores to inform employees of their right to strike and vow not to threaten or discipline employees for striking.
Also in January, Walmart announced that some employees would start making a minimum of $10/hour, effective February 20, 2016. MCAW issued the following statement in response:
"Walmart's greed knows no bounds. They just closed hundreds of stores, destroyed thousands of jobs, and devastated countless small communities, but now they are trying to convince America they're giving our workers a raise? After Walmart's last wage increase stunt, many workers almost immediately saw their hours cut and take-home pay go down. It's easier to find a unicorn than a Walmart worker who has received a meaningful raise, or hasn't had their hours cut. You want to know the real impact of Walmart? Ask the communities and workers whose stores are closing. Or even better, ask the workers who are still waiting for the last raise.
America's hard-working families expect better from a company that makes billions in profit a year, and that is owned by one of the wealthiest families in the world. Make no mistake: We will not stop our campaign to change Walmart, until they change for the better."