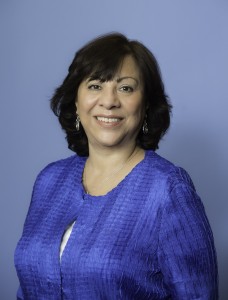 On February 20, Esther López received the Dolores Huerta Woman of Courage medallion at the U.S. Hispanic Leadership Institution's 34th annual conference. López has worked tirelessly for decades on behalf of women, immigrants, the LGBT community, and all families seeking a better life.
López is best known for her leadership on comprehensive immigration reform, recognizing the issue as central to civil, human, and labor rights. Under her leadership, the UFCW created the Union Citizenship Action Network (UCAN), providing union members and staff the critical tools needed to go through the naturalization process and become U.S. citizens. Through this program, the UFCW has trained over 600 volunteers, including UFCW members, local union staff, community volunteers, school teachers, and members of other unions on the requirements for naturalization. In the process, the UFCW has helped over 400 members become U.S. citizens, saving members over half a million dollars in the process.
López is proud to share this honor with the UFCW family is committed to building a diverse and strong union family.