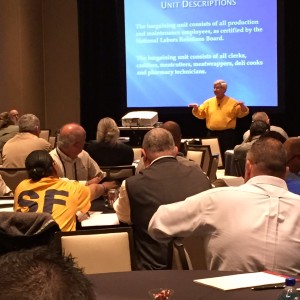 Please mark your calendars for the UFCW conferences in May 2016 in Las Vegas, Nevada.  This year the conferences will have two main parts, the Retail Conference and the Legislative and Political Conference.  Please read the descriptions below. A registration e-mail and hotel information will be sent out at a later date.
Retail Conference
 Dates: Arrive for an evening opening at 5 p.m. on Sunday, May 22.  Full days (8 a.m. to 5 p.m.) on Monday, May 23 and Tuesday, May 24.
The Retail Conference will provide attendees with opportunities to learn about collective bargaining, organizing, and communication strategies in the retail sector.  In addition, there will be time to coordinate among regions and companies to discuss common issues and new thinking about how we can raise standards for retail workers.  If you have any questions about the Retail Conference, please contact International Vice President and Collective Bargaining Director Kevin Williamson's office at bphaler@ufcw.org or (202) 466-1527.
Legislative and Political Conference
 Dates: Full days (8 a.m. to 5 p.m.) on Wednesday, May 25 and Thursday, May 26.
Working families are under attack like never before.  With the gridlock in DC and the push for anti-worker legislation in the states, it is critical that our Union has the tools, resources, and strategy to fight back. Join us for an exciting and informative Conference that will include workshops focusing on politics and how to win locally, developing legislation that helps organizing, and how to use the latest technology in politics to enhance how you communicate politically with your membership, as well as hearing from prominent elected officials, candidates, and political experts.  If you have any questions about the Legislative and Political Conference, please contact Executive Vice President and Legislative and Political Action Department Director Stuart Appelbaum's office at sharris@ufcw.org or (202) 728-1804.
Which Conferences Should I Attend?
The Retail Conference is specifically geared towards locals that represent retail locations.  Locals that do not represent retail locations are welcome, but may not find the information relevant to them.  The Legislative and Political Conference is open to all attendees.