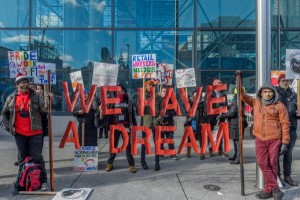 On Monday, members from the RWDSU joined activists from the Retail Action Project (RAP), and other allies, to take action in support of retail workers during the National Retail Federation's annual conference. During the rally, activists demanded that retailers provide better wages and fair scheduling for workers.
RAP member Nicole Brown said, "These wealthy CEOs come to the National Retail Federation conference because New York City is the retail capital of the world. This is an expensive city for people like me. We need better pay, and to be treated with dignity as full-time employees who deserve better."
A video from the action is available here.