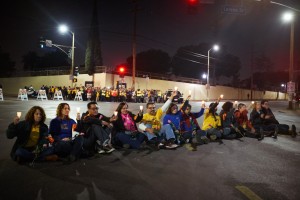 On November 18, more than 500 El Super workers, labor, community and clergy leaders, staged a nonviolent civil disobedience and candlelight vigil at the busy "Five Points" intersection near El Super's East L.A. location.
Protesters took to the streets for the second time in less than a month to ratchet up the pressure on El Super grocery stores decision-makers on the eve of scheduled contract negotiations. More than a dozen protesters were arrested after forming a prayer circle in the center of Cesar E. Chavez Ave. after the Los Angeles police department issued an order to disperse.
El Super #17 cashier Flora Castaneda was among the protesters arrested. "Change demands that people like me must stand up. I don't want to get arrested, but if we don't stand up for ourselves, everything will stay the same," said Castaneda, a single mother of three children, who has worked at El Super for more than eleven years.
Castaneda is one of approximately 600 UFCW union members who work for the El Super chain. For more than two years, she and her unionized coworkers have been seeking an agreement with El Super that ensures a 40-hour guarantee for full-time workers, adequate paid sick leave, seniority protections, fair wages, affordable health benefits, the right to organize without retaliation, and respect in the workplace.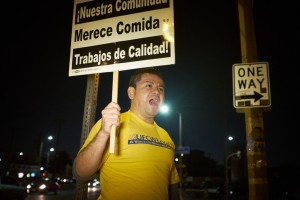 Last July, El Super entered into a settlement agreement with the U.S. Government to resolve the National Labor Relations Board's allegation that it violated workers' federally protected labor rights. The company agreed to return to the bargaining table and negotiate in good faith with UFCW.
However, since returning to the negotiations with UFCW on August 18, after more than a year of stalling, El Super hasn't made a significant progress towards an acceptable deal. They have agreed to negotiate a total of five days, over four months. Indeed, El Super has even failed to meet its legal obligation to provide information necessary to bargaining.
Grupo Commercial Chedraui is Mexico's third largest retailer. Chedraui operates over 200 markets in Mexico, and 52 El Super stores in the U.S. In 2014, it earned nine-figure profits. Yet, Chedraui's largely immigrant workforce in the U.S. toils in jobs that undermine basic industry labor standards.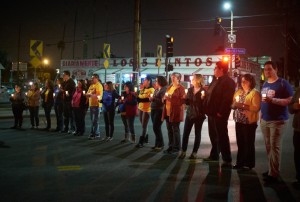 A multinational coalition filed complaints Nov. 12 with the federal government alleging Chedraui is violating the North American Free Trade Agreement and Organization for Economic Cooperation and Development guidelines by engaging in alleged "workers' rights abuses" in the U.S. and Mexico.
The NAFTA-related complaint against Chedraui Commercial Group was filed by the UFCW in California, Frente Autentico del Trabajo, in Mexico, the Los Angeles Alliance for a New Economy, in California, and the Project on Organizing, Development, Education and Research, a Mexico and U.S.-based NGO focused in Latin America.