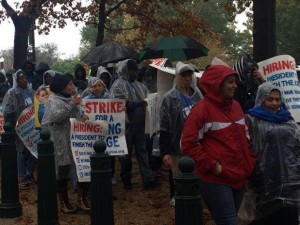 This morning, UFCW staff joined several hundred federal contract workers to march on Capitol Hill as part of a "Fight For $15" national day of action. The national day of action took place in more than 500 cities and involved tens of thousands of fast food, retail, transportation, and other workers who are calling for $15 an hour and union rights.
The parade of workers and supporters held signs and led chants to call on our current members of Congress, President Obama, and the 2016 Presidential candidates to support workers in their fight for a living wage and the right to organize on the job. Many of them are on strike to highlight their struggle to survive on low wages.
Once the workers reached Upper Senate Park, they were joined by Senator Bernie Sanders, who spoke to the crowd saying, "People who work 40 hours in this country deserve a living wage, and workers in our city here, and all over this country, deserve the right to organize a union!"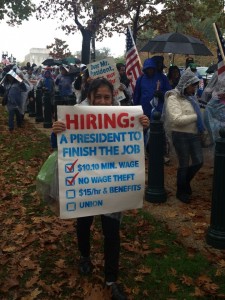 UFCW Locals in other regions of the country joined actions as well. UFCW Local 1000 held an action in support of Minyards workers in Irving, Texas, and UFCW Local 400 Kroger workers joined an action in Richmond, Va., to support workers fighting for a union and $15 an hour. UFCW Locals 328, 371, 919, and 1459 also held actions at Price Rite grocery stores.