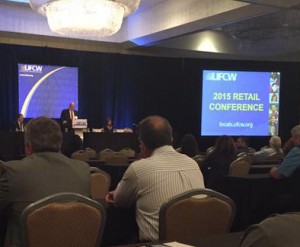 On Oct. 18-22, Local Union leaders and staff from around the country and Canada convened in Atlanta for the second UFCW Retail Conference this year.
Conference participants focused on organizing and bargaining opportunities in the retail and retail food sectors.  UFCW union leaders and staff attended workshops that revolved around initiatives, contract language, right to work, communications, best practices, and broke out into groups by company and region to build on the progress that was made during the previous conference in April.
The conference also focused on the importance of messaging in relation to reaching out to potential members, and included a plenary on communication strategies. Other plenaries focused on the need for fair and reliable schedules in the retail sector, and the how the retail industry as a whole is driving racial inequality and keeping Black and Latino workers from climbing up the economic ladder.
Some of the materials used throughout the conference can be found on the Local SharePoint site. The next UFCW Retail Conference is scheduled to take place in the spring of 2016.