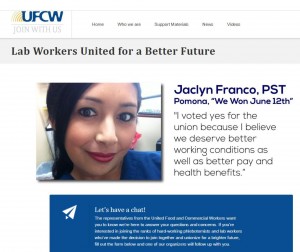 LabCorp workers at labs across San Diego and Los Angeles County voted Union Yes! this week to join UFCW Local 135 and UFCW Local 770. The workers join a growing movement of phlebotamists and lab technicians who have come together from the Northwest to the Southwest to raise standards in the health-care industry.
LabCorp is one of the largest laboratory networks in the world, employing workers throughout the United States and Canada. Given the company's prominence, workers hope that through the growing power of their combined voice, LabCorp workers will be able to influence and improve standards for workers throughout the industry.
"I voted yes for all the young workers at LabCorp," said Leon Guttierez, who joined the UFCW in May along with his coworkers at the Chino LabCorp location. "I want them to have a better future than I did while working in this industry for so long. "
California LabCorp workers began their organizing campaign after a chance encounter with their unionized counterparts in Washington state. With the encouragement and support of their northwestern coworkers, LabCorp workers in California are coming together and finding their voice.
Already, their organizing efforts are paying off as many LabCorp workers have seen significant raises since the campaign began.
Visit LabWorkersUnited.com to learn more.