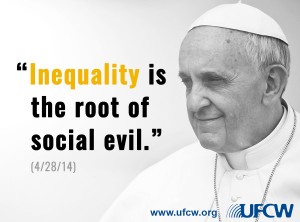 UFCW International President Marc Perrone released the following statement regarding the visit of Pope Francis to the United States.
"In the face of growing income inequality and poverty, Pope Francis has inspired not only his Catholic followers, but has helped raise the collective moral consciousness to an array of unjust economic policies that are hurting so many families all across the world.
"Regardless of faith or political ideology, his preaching of solidarity and shared sacrifice send a powerful message to our national political and economic leaders about the responsibility they have to help better the lives of hard-working men and women.
"Now, more than ever, it is time for our leaders to answer this call and adopt policies that focus on improving the lives of the many, not on enriching the lives of the ultra-rich few."