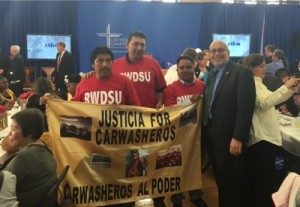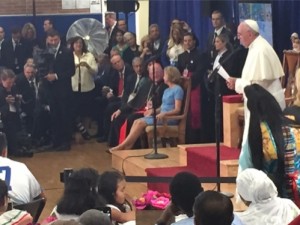 UFCW/RWDSU car wash workers were invited to take part in a papal meeting at a school in East Harlem on Saturday, September 26.
"I feel very proud, and happy. I have goosebumps just thinking about it," said Jose Reynaldo Sanchez, a self-described "carwashero" who emigrated from El Salvador and works in the Bronx. He dries cars and is a shop steward.
Refugio Denicia immigrated from Mexico to Queens 12 years ago and does detail work at Five Star car wash in Elmhurst, one of nine New York car washes with a union contract.
Denicia said he believes that the Pope can make a difference in how Americans view the issue of immigration.
"I think he can help move immigration reform forward, to keep families together," said Denicia.
Fellow car wash worker Patricio Santiago said he has met Mayor de Blasio through his work organizing for better car wash working conditions, but never thought his campaigning could lead to an audience with a global figure like Pope Francis.
"Now I have the fortune to be with the Pope in person. Because of how have I worked I will have this great opportunity," said Santiago, who does detail work at Jomar Car Wash in Flushing and is a union shop steward.
UFCW/RWDSU President Stuart Appelbaum released the following statement on the special event.
"We are honored that carwasheros Patricio Santiago, Refugio Denicia, and Jose Reynaldo Sanchez were  invited to meet with Pope Francis at Our Lady Queen of Angels School in East Harlem.
"Pope Francis is an extraordinary moral leader on economic justice for all people in this world. He inspires  low-wage workers seeking dignity and justice; and he inspires humanity across the globe.
"Car wash workers in New York City have also been an inspiration to immigrants and working people. They've fought back against a culture of exploitation; and by winning union contracts and  representation with the UFCW/RWDSU, they are proving that when workers join together, they can make a  difference in their lives. With our partners New York Communities for Change and Make the Road New  York, the UFCW/RWDSU is committed to transforming the lives of New York's carwasheros.
"The invitation for these RWDSU members to meet with the Pope serves as a message to all people in  this country that every worker, regardless of what they do or where they came from, is entitled to be treated with dignity and respect."