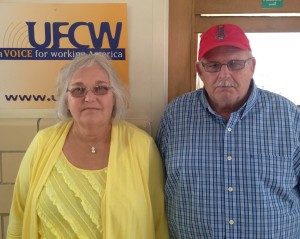 Retirees from the Kraft-Heinz company in Wisconsin became concerned when they began receiving letters telling them that their health care was changing to give them more "flexibility, choice and control." Because they had a union while they worked, they reached out to UFCW Local 538 in Madison, Wis., which confirmed that the "choice and control" were really cuts and complications to their health plans.
"What Kraft-Heinz is trying to do is break a promise," said Doug Leikness, president of UFCW Local 538. "We'd fought hard for retiree health care over the years, and now they are trying to walk back from that commitment and leave their most loyal employees in the lurch."
UFCW Local 538 immediately began raising the alarm. Kraft-Heinz faced an avalanche of bad press from both local and national publications revealing that more than 15,000 retired workers and their families had been affected by these cuts. However, only former UFCW members had somebody fighting for them.
Rhonda Hansen had worked at the Oscar Mayer plant in Madison for 19 years as a member of UFCW Local 538 before retiring two years ago. Her family depends on the health insurance she earned through years of hard work – especially her husband Dale, who has Alzheimer's and has suffered from both skin cancer and heart problems.
"Kraft-Heinz is owed by some of the richest people in the world, including Warren Buffet," said Hansen. "But when they're looking to cut costs, they pull the rug out under loyal workers like me. I'm just grateful I still part of a union that's still out there fighting for me."
While they haven't rolled back the cuts yet, and the fight still continues. Leikness says UFCW Local 538 is looking for new ways to pursue the struggle to ensure former UFCW members get the benefits they deserve.