The U.S. Department of Labor's Occupational Safety and Health Administration (OSHA) has awarded the UFCW $140,000 for a one-year federal safety and health training grant.
The UFCW will use the grant to focus on ergonomic hazard training for workers in meatpacking, poultry, food processing, and retail industries. Workers in these industries suffer some of  the highest rates of musculoskeletal disorders (MSDs) compared to workers in other industries.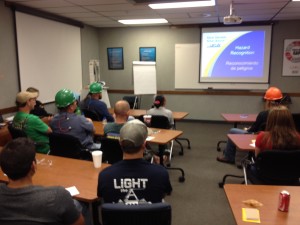 Training and educational materials will be delivered to union representatives, safety and ergonomic committee members, and UFCW members to help recognize ergonomics hazards, analyze the workplace for hazards, and implement ergonomic injury prevention measures.  The materials will cover workers' rights under OSHA, and there is also a train-the-trainer component so that local unions can continue the trainings after the grant funding ends. Trainings will be available in English, Spanish, and other languages if necessary. Contact the UFCW Safety and Health Office for more information.