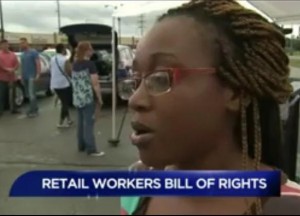 On August 17, the Indianapolis City-County Council voted 15-14 to pass a resolution supporting the creation of a "Retail Workers Bill of Rights." The Lift Retail Jobs campaign, a coalition of retail workers, local businesses, and community groups, has been advocating for this resolution to promote full-time work, fair scheduling practices, affordable benefits, and a pathway to the middle class.
"Here in Indianapolis, the retail industry is one of the fastest growing sectors of our economy and a major employer of women and people of color. But unfortunately, many of these jobs are low-wage, part-time positions with erratic hours that are preventing retail workers from climbing up the economic ladder," said Mary Kate Dugan, executive director of Central Indiana Jobs with Justice.
"A Retail Workers Bill of Rights would change that by promoting full-time work, access to hours, paid sick leave, and other protections for both full- and part-time workers," Dugan said.
Shaunteka Campbell has worked a variety of retail and fast food jobs for the past 15 years. She called the vote a "step in the right direction."
"I'm happy that the resolution passed and proud that many of our City-County Councilors stood with us," said Campbell. "But our work isn't done. We're going to keep fighting for good jobs and a living wage for all retail workers in this city. And we're going to win because we're committed and we're growing."
For more information about the Lift Retail Jobs campaign, visit www.LiftRetailJobs.org.