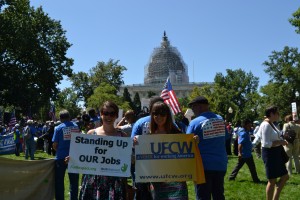 Last week, federal contract workers walked out on strike, calling for $15 an hour and a union. More than 600 workers from the Senate cafeteria and janitorial services, the Capitol Visitor Center, Pentagon, Union Station, National Zoo, and Smithsonian Institution joined the one-day strike.
As the workers walked off the job, they gathered in front of the U.S. Capitol where the UFCW, Good Jobs Nation, and other supporters were rallying in solidarity.
Struggling to live on $10.59 an hour, Senate Cafeteria cashier Sontia Bailey had to take a second job at Kentucky Fried Chicken and now works 70 hours a week. At the rally, she told supporters, "KFC actually pays me more than Uncle Sam. I'm here because America needs to know that long hours and low pay hurt working women and families."
At the rally, Sen. Bernie Sanders (I-Vt.), Rep. Keith Ellison (D-Minn.), and Rep. Raul Grijalva (D-Ariz.) introduced a bill to raise the federal minimum wage to $15 an hour and make it easier for federal workers to join a union.