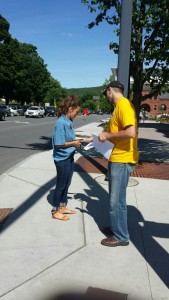 In an effort to grow the UFCW through organizing and to raise standards for retail food workers, UFCW local unions in Region 1 have been working together to create a regional forum where locals can share reflections about organizing and come up with new ideas to increase organizing successes in the region.
The concerted effort, spearheaded by the local unions, has already started to yield promising results and Region 1 locals agree that in order to be successful they must mutually support each other and engage in a wider range of concerted activities.
Key among the achievements of this new approach based on shared responsibility is the agreement by all locals unions to establish a funding plan to support organizing programs throughout the region. Organizing accounts are already being set up in New York, New Jersey, and New England.
Region 1 locals are also holding coordinated actions including region-wide leafleting of Whole Foods following the recent revelations of the company overcharging customers in New York, and customer outreach at a 90 Meat Outlet in Springfield, Mass., to send a clear message to the employer that firing workers for engaging in protected union activities will not be tolerated.
This week, solidarity actions held by Region 1 locals to protest against the unlawful firing of a union activist on the regional co-op campaign resulted in the worker winning her job back in a non-NLRB settlement. This show of strength energized the workers who, now more than ever, are determined to bring a union voice to the Hanover Consumer Cooperative Society.
In addition to working together as well as with labor and community allies on regional programs like the Price Rite organizing campaign in Massachusetts, Western New York, and Rhode Island, and the Best Yet Campaign in New York, UFCW Region 1 locals are also launching local campaigns based on their respective retail food organizing priorities.