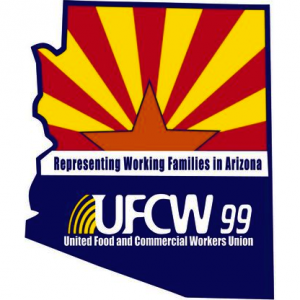 Workers at the Gourmet Boutique West food processing plant are celebrating a tentative settlement agreement with the company. Along with the workers securing their right to freely pursue joining a union without the fear of retaliation, the tentative settlement also includes the reinstatement of two unjustly terminated workers along with back pay. The pending settlement has been signed off by the company's attorney and is awaiting approval by National Labor Relations Board (NLRB).
"It has been rough for us here at the plant. We stuck together though and with the help of the great people at UFCW Local 99, not only do I have my job back, but my coworkers and I can now work toward being part of a union and making all of our jobs better," said Yolanda Luna, one of the reinstated workers at the plant.
Workers contacted UFCW Local 99 about joining the union to help them improve working conditions, address safety concerns, and also calling to be treated with respect and dignity on the job. When workers and the UFCW began to work together to help workers join the union, the company responded by, according to NLRB General Counsel's complaint, retaliating against pro-union workers and terminating two of them for union activity.
UFCW Local 99 then filed a series of unfair labor practice charges against Gourmet Boutique West with the NLRB. Complaints issued by the NLRB General Counsel alleged more than 70 unfair labor practice violations. Some of these were very serious including:
Threatening employees with discharge and various punishments for engaging in union activities,
Promising employees special benefits if they told the company about the union activity of other workers,
Calling the police to remove union representatives and employees from public property near the worksite while they were engaged in lawful handbilling,
Interfering with the formation and administration of a company union in an effort to keep UFCW Local 99 out of the plant.
After the charges were filed, Gourmet Boutique West then agreed to enter into the tentative settlement agreement that is waiting for approval by the NLRB. Workers at the plant and UFCW Local 99 will continue to work toward securing a union voice on the job, and a union contract that secures wages, benefits and respect and dignity on the job.
There are 50 workers at the Gourmet Boutique West food processing plant where workers prepare ready-made meals to be shipped to grocery stores. More than 18,000 workers who work in the grocery and several other industries are members of UFCW Local 99.