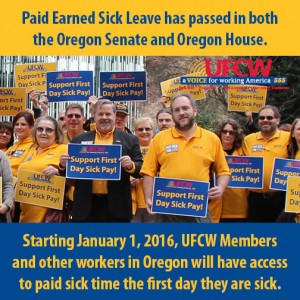 On June 12, the Oregon House passed paid earned sick leave legislation after successfully moving through the Oregon Senate. The bill will now be sent to Democratic Gov. Kate Brown to be signed into law.
"For more than three and a half years, UFCW Local 555 members have made passing a statewide paid earned sick leave law a top priority. From the very beginning, helping first to pass this law in both Portland and Eugene, members were on the front lines of this fight because we believe that everyone can be healthier and more productive when they are given ample time to recover from sickness," said UFCW Local 555 President Dan Clay.
Members donated time and resources to lobby on behalf of paid earned sick leave and provide printed materials to support the campaign.
Facts about Paid Earned Sick Leave legislation:
The bill would take effect January 1, 2016, and provide paid earned sick leave to any worker employed by a company with more than 10 employees.
The law allows workers to accrue sick time at the rate of at least one hour of unpaid sick time for every 30 hours the worker is on the clock or 1-1/3 hours for every 40 hours.
Employees could earn up to 40 hours of paid sick time a year.
Right now, UFCW Local 555 members working in grocery stores outside of Portland do not get sick pay the first day they are sick, but must wait till the third day they are out.
This bill will allow for members of UFCW Local 555 working in Oregon, and almost all working people, to be paid the very first day they call in sick.
UFCW Local 555 is now working with allied organizations in Washington to bring paid earned sick leave to members in southwest Washington, as well as other workers in the area.