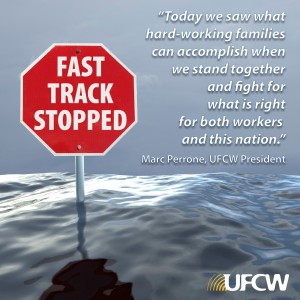 UFCW International President Marc Perrone released the following statement in response to the U.S. House failing to pass fast track trade legislation.
"This is a victory for hard-working men and women all across America. In the face of long odds, the American people sent a powerful message that their interests trump narrow political agendas and special interests.
"Today, we saw elected leaders stand up and make clear that the failed promises of global trade agreements, which only seem to serve irresponsible corporations, must come to an end. More importantly, we have seen what hard-working families can accomplish when we stand together and fight for what is right for both workers and this nation.
"With respect to TAA, we support a clean extension of the program, but the best way to help the jobless is to simply stop passing trade agreements like TPP that kill jobs.
"While one vote does not end the fight, our campaign for better America will continue full speed ahead until the threat of TPP and other unfair trade deals is gone for good."
Below is a list of U.S. House members who voted on Friday to stop Fast Track. If you see someone that represents your local area, please call and thank them for voting NO on TAA and TPA.
| | | | |
| --- | --- | --- | --- |
| FIRST NAME | LAST NAME | DISTRICT | TAA VOTE |
| Ann | Kirkpatrick | AZ01 | NO |
| Raúl | Grijalva | AZ03 | NO |
| Ruben | Gallego | AZ07 | NO |
| Kyrsten | Sinema | AZ09 | NO |
| Jared | Huffman | CA02 | NO |
| John | Garamendi | CA03 | NO |
| Doris | Matsui | CA06 | NO |
| Jerry | McNerney | CA09 | NO |
| Mark | DeSaulnier | CA11 | NO |
| Barbara | Lee | CA13 | NO |
| Jackie | Speier | CA14 | NV* |
| Eric | Swalwell | CA15 | NO |
| Michael | Honda | CA17 | NO |
| Zoe | Lofgren | CA19 | NO |
| Lois | Capps | CA24 | NO |
| Julia | Brownley | CA26 | NO |
| Judy | Chu | CA27 | NO |
| Adam | Schiff | CA28 | NO |
| Tony | Cárdenas | CA29 | NO |
| Brad | Sherman | CA30 | NO |
| Pete | Aguilar | CA31 | NO |
| Grace | Napolitano | CA32 | NO |
| Ted | Lieu | CA33 | NO |
| Xavier | Becerra | CA34 | NO |
| Norma | Torres | CA35 | NO |
| Raul | Ruiz | CA36 | NO |
| Linda | Sánchez | CA38 | NO |
| Lucille | Roybal-Allard | CA40 | NO |
| Mark | Takano | CA41 | NO |
| Maxine | Waters | CA43 | NO |
| Janice | Hahn | CA44 | NO |
| Loretta | Sanchez | CA46 | NO |
| Alan | Lowenthal | CA47 | NO |
| Juan | Vargas | CA51 | NV* |
| Diana | DeGette | CO01 | NO |
| Joe | Courtney | CT02 | NO |
| Rosa | DeLauro | CT03 | NO |
| Elizabeth | Esty | CT05 | NO |
| Gwen | Graham | FL02 | NO |
| Corrine | Brown | FL05 | NO |
| Alan | Grayson | FL09 | NO |
| Kathy | Castor | FL14 | NO |
| Patrick | Murphy | FL18 | NO |
| Alcee | Hastings | FL20 | NO |
| Theodore | Deutch | FL21 | NO |
| Lois | Frankel | FL22 | NO |
| Frederica | Wilson | FL24 | NO |
| Sanford | Bishop | GA02 | NO |
| Henry | Johnson | GA04 | NO |
| John | Lewis | GA05 | NO |
| David | Scott | GA13 | NO |
| Mark | Takai | HI01 | NO |
| Tulsi | Gabbard | HI02 | NO |
| David | Loebsack | IA02 | NO |
| Bobby | Rush | IL01 | NO |
| Robin | Kelly | IL02 | NO |
| Daniel | Lipinski | IL03 | NO |
| Luis | Gutiérrez | IL04 | NO |
| Danny | Davis | IL07 | NO |
| Tammy | Duckworth | IL08 | NO |
| Janice | Schakowsky | IL09 | NO |
| Bill | Foster | IL11 | YES |
| Cheri | Bustos | IL17 | NO |
| Peter | Visclosky | IN01 | NO |
| John | Yarmuth | KY03 | NO |
| Richard | Neal | MA01 | NO |
| James | McGovern | MA02 | NO |
| Niki | Tsongas | MA03 | NO |
| Joseph | Kennedy | MA04 | NO |
| Katherine | Clark | MA05 | NO |
| Seth | Moulton | MA06 | NO |
| Michael | Capuano | MA07 | NO |
| Stephen | Lynch | MA08 | NO |
| William | Keating | MA09 | NO |
| C. | Ruppersberger | MD02 | NO |
| John | Sarbanes | MD03 | NO |
| Donna | Edwards | MD04 | NO |
| Elijah | Cummings | MD07 | NO |
| Chris | Van Hollen | MD08 | NO |
| Chellie | Pingree | ME01 | NO |
| Daniel | Kildee | MI05 | NO |
| Sander | Levin | MI09 | NO |
| Debbie | Dingell | MI12 | NO |
| John | Conyers | MI13 | NO |
| Brenda | Lawrence | MI14 | NO |
| Timothy | Walz | MN01 | NO |
| Betty | McCollum | MN04 | NO |
| Keith | Ellison | MN05 | NO |
| Collin | Peterson | MN07 | NO |
| Richard | Nolan | MN08 | NO |
| Wm. | Clay | MO01 | NO |
| Emanuel | Cleaver | MO05 | NO |
| Bennie | Thompson | MS02 | NO |
| G. | Butterfield | NC01 | NO |
| Alma | Adams | NC12 | NO |
| Ann | Kuster | NH02 | NO |
| Donald | Norcross | NJ01 | NO |
| Frank | Pallone | NJ06 | NO |
| Albio | Sires | NJ08 | NO |
| Bill | Pascrell | NJ09 | NO |
| Donald | Payne | NJ10 | NO |
| Bonnie | Watson Coleman | NJ12 | NO |
| Michelle | Lujan Grisham | NM01 | NO |
| Ben | Luján | NM03 | NO |
| Dina | Titus | NV01 | NO |
| Grace | Meng | NY06 | NO |
| Nydia | Velázquez | NY07 | NO |
| Hakeem | Jeffries | NY08 | NO |
| Yvette | Clarke | NY09 | NO |
| Jerrold | Nadler | NY10 | NO |
| Carolyn | Maloney | NY12 | NO |
| Charles | Rangel | NY13 | NO |
| Joseph | Crowley | NY14 | NO |
| José | Serrano | NY15 | NO |
| Eliot | Engel | NY16 | NO |
| Nita | Lowey | NY17 | NO |
| Sean | Maloney | NY18 | NO |
| Paul | Tonko | NY20 | NO |
| Louise | Slaughter | NY25 | NO |
| Brian | Higgins | NY26 | NO |
| Joyce | Beatty | OH03 | NO |
| Marcy | Kaptur | OH09 | NO |
| Marcia | Fudge | OH11 | NO |
| Tim | Ryan | OH13 | NO |
| Peter | DeFazio | OR04 | NO |
| Robert | Brady | PA01 | NO |
| Chaka | Fattah | PA02 | NO |
| Brendan | Boyle | PA13 | NO |
| Michael | Doyle | PA14 | NO |
| Matt | Cartwright | PA17 | NO |
| David | Cicilline | RI01 | NO |
| James | Langevin | RI02 | NO |
| Steve | Cohen | TN09 | NO |
| Al | Green | TX09 | NO |
| Rubén | Hinojosa | TX15 | NO |
| Sheila | Jackson Lee | TX18 | NO |
| Joaquin | Castro | TX20 | NO |
| Gene | Green | TX29 | NO |
| Marc | Veasey | TX33 | NO |
| Filemon | Vela | TX34 | NO |
| Lloyd | Doggett | TX35 | NO |
| Robert | Scott | VA03 | NO |
| Peter | Welch | VT00 | NO |
| Jim | McDermott | WA07 | NO |
| Mark | Pocan | WI02 | NO |
| Gwen | Moore | WI04 | NO |
*NV means not voted