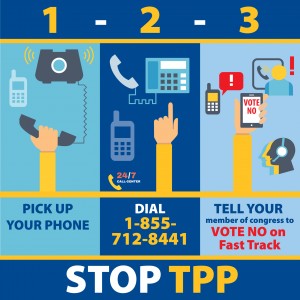 Thanks to UFCW members, Congress is returning from the Memorial Day recess feeling more pressure than ever to oppose fast track legislation that will rush through the secretive Trans-Pacific Partnership (TPP).
Throughout the recess week, UFCW members were fighting to stop this unfair agreement by going to phone banks, canvasses, and the district offices of their Representatives.
UFCW Local 1262 in New Jersey held a press conference with Representative Bill Pascrell that was attended by more than 200 people.
"It's going to get hot out here today," Pascrell told the crowd. "But we are going to make it hot for the House of Representatives when the fast track bill comes up."
With Congress back in session, now is the time for every UFCW member to get involved in this fight. The final vote is expected by the end of June and it is going to be close.
We need UFCW members to call their Congressperson and tell them to vote NO on Fast Track. Every member of Congress needs to understand that supporting this bill will cost votes in the next election.
Here is a sample script that members can use:
 Dial 1-855-712-8441 to be connected with your Congressperson.
 Hello, my name is _________. I live in _________.
 I am calling to urge you to vote NO on Fast Track.
 This bill will send good jobs overseas and give more power to giant corporations. You will lose my vote if you support it.
Shareable online graphics can be found on the Facebook page of the International.
The more members we can get to call their Congressperson, the greater chance we have at winning this fight.