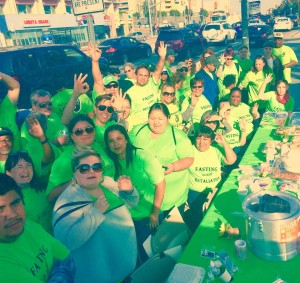 Ahead of the company's June 5 shareholder meeting, Walmart workers in major cities across the country are holding rallies and marches this week, calling for CEO Doug McMillon and the Walton family to end the retaliation against workers who speak out for change, and to publicly commit to pay a living wage and provide access to full-time hours.
In Los Angeles, two dozen Walmart workers began a 24-hour fast on May 27. They were later joined by allies and supporters in a colorful march through downtown Los Angeles' historic Chinatown neighborhood. The march culminated in a protest and community sit-in action outside the Walmart Chinatown store where workers wore masking tape over their mouths to protest the company's silencing of those who speak up for change. In addition to signs and banners calling on Walmart to pay a fair wage and provide full-time work, protesters also used giant plungers as props to shine the spotlight on the company's alleged plumbing issues in five stores, which resulted in the sudden layoff of 2,200 workers.
Earlier this year, Walmart caved to worker pressure and announced it would raise wages for 500,000 U.S. associates. But despite the modest increase—and without any guarantee of adequate hours —many workers are still forced to rely on government assistance programs like food stamps to get by. Meanwhile, the company escalated its retaliatory actions against associates to a new level last month when it abruptly closed five stores and laid off more than 2,000 workers, citing "plumbing issues." Walmart has failed to offer any conclusive evidence of a plumbing emergency that would require the immediate closing of five stores. Workers at the Walmart store in Pico Rivera, Calif., one of the stores closed for alleged plumbing issues, are calling on the company to commit publicly to reinstating all laid off workers when the store reopens for business and to allow all workers, for the time being, to be transferred to one of the nearby 45 Walmart stores.
"It's no coincidence that many OUR Walmart members from my store, including myself, have not been transferred to other Walmart stores even though we made the request shortly after the company unilaterally decided to close our store with just a few hours' notice," said Venanzi Luna, a Walmart worker from Pico Rivera.
Walmart workers are prepared to demand change and accountability from the world's largest retailer at the company's upcoming shareholder meeting. Worker shareholders will present two resolutions intended to rein in executive compensation and incentivize sustainable investment, such as fair wages and benefits for workers. Teresa Adams, one of the Pico Rivera store workers the company laid off, plans to join her coworkers at the meeting.
"Walmart's business model only works for the people at the very top, and that's not right," Adams said. "We're fighting for a fair wage and full-time because that's what we need to support our families."