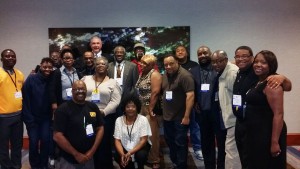 More than 35 UFCW delegates from UFCW Locals 75, 400, 655, 881, and 1546, along with international staff, attended the Coalition for Black Trade Unionists (CBTU) convention where they were keynote speakers and lead convention panels. The CBTU convention was in Chicago from May 2st – May 24th. The conference was opened by UFCW Civil Rights and Community Action Associate Director Robin Williams and the UFCW Minority Coalition took the opportunity to hold their executive board meeting during the convention. On the second day of the convention, UFCW International President Marc Perrone was the keynote speaker and Mannie Pratt from UFCW Local 881 led the women's luncheon panel that honored women in the labor movement.
"Looking ahead, the work you all do as part of the CBTU has impacted so many. Through education, community involvement, and political empowerment, you are giving a voice to the otherwise voiceless. Everyday, it is changing lives, and it will help change the UFCW and other unions for the better. By helping African American workers unite, you not only make our union families stronger, you make every member's family – whether they are African American or not – stronger," said UFCW International President Perrone.
This year's CBTU convention focused on how the labor movement can form stronger relationships and work with local communities and young activists. Panel discussions covered low-wage workers, politics, massive incarceration, and education. There were also workshops that focused on leadership, community organizing, representing the new faces of the workforce, and understanding racism. Following the convention, UFCW and CBTU chapter delegates were encouraged take the tools that they received back to their locals and communities in order to better serve current union members and help organize more workers.