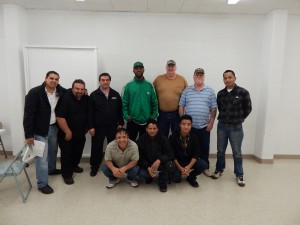 Last Thursday, UFCW Local 951 members working at the JBS slaughterhouse and meatpacking facility in Plainwell, Mich., overwhelmingly voted to ratify a new contract that includes significant wage increases and other gains.
"This is a very good contract that will put real money in members' pockets over the next five years," said UFCW Local 951 President John Cakmakci. "In addition to wage increases for all members, the contract includes a plan to provide free medical services to members and their eligible dependents."
Upon ratification, all members will receive a wage increase ranging from 85 cents to over $3 per hour. Base rates that currently range from $10.35 to $26 per hour will increase $2.05 an hour over the next four years.
The contract also includes a unique approach to health care that will give members the opportunity to save money on their medical expenses. Once established, members will have the option of receiving free medical care at designated clinics.
"Other UFCW locals have negotiated similar clinic provisions in their medical insurance plans with JBS and they have been extremely successful," Cakmakci said. "Members save money on their medical expenses, and the employer's insurance costs are reduced over time because people aren't waiting to receive treatment. It's a win, win situation."
Workers at the plant are excited about the improvements in the new contract.
"The new contract is going to make people's lives better," said UFCW Local 951 member Ryan Romanak, who works in the grind department. "They're going to be making more money with the new clinic and with the health benefits being upgraded, workers and their families are going to be happier."
"Everybody seems to be happy with the new contract. The whole plant will benefit from the new contract. More than 200 jobs got moved up a pay grade, and then on top of that, everybody got a raise," said Torris Brazier, a cooler department employee. "I think the money and the insurance are the best parts of the contract. That's the most important part to me. Those are the things we live for. Health and money, in that order."
In addition to these gains, the new contract maintains double time pay for work on Sundays and holidays, and time and one-half pay for work on a sixth day in a single week and for all hours worked over eight in a day.
Approximately 900 UFCW Local 951 members work at the JBS plant. This is the second contract members have ratified since voting to join the union in 2011.