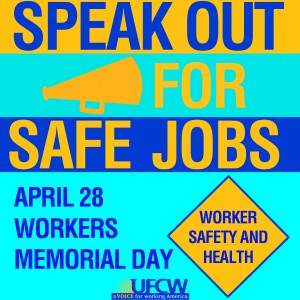 Every Workers Memorial Day on April 28th, the UFCW joins workers in the U.S. and around the world to remember and pay tribute to the thousands of workers who have been killed on the job, and the millions of workers who have suffered from injuries, sickness or diseases in their places of work.
While the efforts of union members and their families have resulted in significant workplace safety laws, including the Occupational Safety and Health Act, too many workers are still suffering or dying on the job.  According to the Bureau of Labor Statistics, more than 4,000 workers lost their lives on the job in the U.S. in 2013. According to the Occupational Safety and Health Administration, 50,000 workers die from illnesses caused by exposure to chemicals and other workplace hazards and millions more will suffer non-fatal workplace injuries each year.
Although the Obama Administration has taken action to strengthen safety and health protections, including proposing new safeguards on silica and other workplace hazards, Republican lawmakers and their corporate backers are trying to stop these protections and shut down all future regulations. Republican lawmakers are also supporting right-to-work laws, which make it harder for unions to bargain for workplace safety protections, along with decent wages and benefits.  In addition to political obstacles, our country's growing wealth gap and low-wage, part-time economy has emboldened many employers to cut corners, violate workplace safety laws, and punish those workers who report job hazards or injuries.
On Workers Memorial Day and every day, the UFCW stands with workers who are fighting to uphold their basic rights – including safe jobs, workplace fairness and collective bargaining. Working people deserve a safe place to work, and those politicians and corporations that weaken work safety laws and exploit workers for profit and put them in danger must be held accountable.
Click here to read UFCW International President Perrone's statement on Workers Memorial Day.