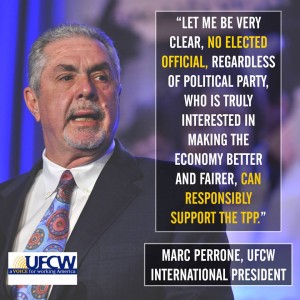 Last week, UFCW International President Marc Perrone responded to the agreement reached on trade promotion authority or fast track.
"The TPP and fast track are not just wrong for America, they will hurt every hard-working family. The fact that Democrats and Republicans support TPP is a bipartisan insult to the millions of men and women struggling to find good jobs and earn a decent living.
Make no mistake, we are determined to see this legislation defeated. Our members will mobilize across the United States to call on Congress to stand up for hard-working families. While we may not be able to change every mind, our voices will be heard. And we will remember those who turned their back on America's workers by voting for another destructive trade deal."
An op-ed by President Perrone on fast track and TPP was also featured in The Hill and can be read here.