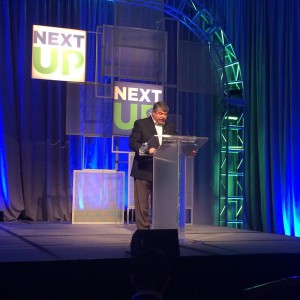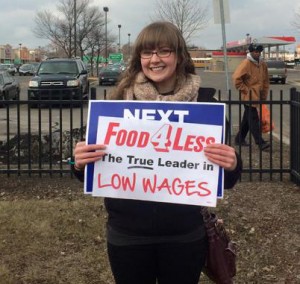 Last week, more than 1,000 young workers and union activists headed to the AFL-CIO's Next Up Young Worker Summit in Chicago, eager to share and learn more about how workers can band together for economic and social justice.
More than 70 UFCW and RWDSU members were in attendance, including many of the 2014 GOLD internship program participants.
UFCW member and former GOLD intern Erica Clemmons proudly introduced AFL-CIO President Richard Trumka at the conference.
Clemmons joined UFCW Local 1059 as a cashier at Kroger, and is now an organizer with UFCW Local 881. She also sits on the AFL-CIO's Young Workers Advisory Council. Clemmons' dedication to economic and racial equality has inspired many other young workers.
Clemmons was also one of the many UFCW and RWDSU activists who led workshops at the conference. Workshops focused on issues such as empowering different minority groups, raising the minimum wage, and gender equality. There were also workshops dedicated to sharing skills and tips for things such as digital organizing and collective bargaining.
Attendees of the conference also participated in two local actions to show solidarity for workers fighting for justice. RWDSU members hosted an action in support of Guitar Center workers, who have been fighting for a voice on the job. UFCW members hosted another action which began at a local McDonalds, where workers have been calling for a living wage of $15 an hour, and then marched on to a Food 4 Less location. Employees at Food 4 Less have been standing together for better wages and benefits, respect on the job, and union representation. Kroger Company, which owns Food 4 Less, pays its other brand employees more than it does its Food 4 Less workers.  Many AFL-CIO affiliated unions joined these actions in solidarity with the workers, in addition to 18 UFCW locals unions.
Read more and watch a clip from the rally here.
Other highlights of the summit included speakers such as labor ally Danny Glover, who spoke about the importance of activism, and Liz Shuler from the AFL-CIO, who emphasized why young workers are so important to the labor movement.