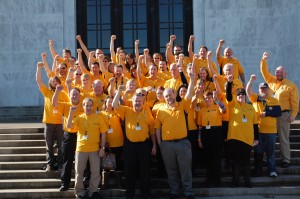 More than 50 UFCW Local 555 members went to the Capitol building in Salem last week to convince legislators to pass a paid sick leave law that will cover every worker in Oregon.
"I'm here to help pass a first day paid sick leave law that will benefit every worker in Oregon," said Jane Killduff, a 17-year member of UFCW Local 555 who works at Albertsons. "It's important to have paid sick leave on the first day – right now it doesn't begin until you've been out for three days. It's a major disconnect when the current paid sick leave policy makes it so hard for people who work around food all day to stay home when they're sick."
The push for paid sick leave resonates with UFCW members on a personal level. From the checkout lane to the deli, they want customers and the food they buy to be safe and healthy. The issue has inspired many UFCW Local 555 members to lobby for the first time.
"I can't wait to tell all my coworkers what a blast I had today," said Justin Dupuis, a five-year UFCW Local 555 member who works at the Safeway distribution center in Portland. "I learned about the legislative process and what it takes to pass good laws. Most of all I just felt like being here was making a difference. Passing paid sick leave for the entire state is going to make Oregon stronger and healthier."
Over the past few years, members of UFCW Local 555 have helped Oregon's two largest cities, Portland and Eugene, pass paid sick leave laws. These victories have created momentum. Local 555 members like Ricardo Morales, who works at Safeway in The Dalles, feel like paid sick leave can and should be adopted statewide.
"I'm at lobby day because I believe we can help pass better laws that will give workers better lives," said Morales. "Our two largest cities have passed paid sick leave, why not the entire state?"
Members who work in Portland, the first place in Oregon to adopt paid sick leave, were excited to share their experience with legislators who were on the fence.
"I was inspired to be here today to help pass paid sick leave," said UFCW Local 555 member Amber Hamilton who works at QFC. "I live in Portland where it already passed and it's been great. I want every worker in the state to have it. People are a lot happier. When you get sick, it's nice to know you have the time to recover. I wish more UFCW members would lobby. As the saying goes, the more the better."
It was difficult to walk down a hallway in the Capitol without seeing a flash of gold. UFCW members quickly realized that their presence was having an impact both inside and outside of meetings.
"Just standing in the hall, people stop by and tell us 'great gold shirts!" said Ellen Hudson, a UFCW Local 555 member who works at the Oregon City Fred Meyer. "It's a great form of recognition. I wish every UFCW member would take time to lobby their elected representatives. I don't feel you have the right to moan and groan and complain if you're not willing to step out of your comfort zone and do something. I learned a long time ago that if you don't speak up, you get rolled over. If we can find the courage to speak up, we'll always be heard."