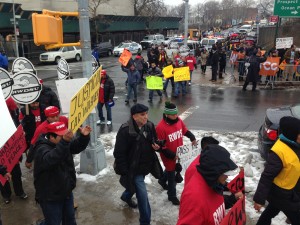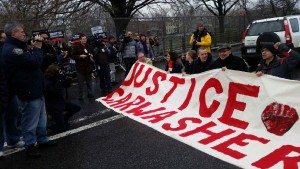 Last week, in an act of civil disobedience, UFCW leaders, as well as local elected and community leaders, were arrested as part of a demonstration in support of the rights of car wash workers in New York City. Those arrested included UFCW International President Marc Perrone and UFCW Executive Vice President Stuart Appelbaum. A video of the action is available here.
The action was led by striking immigrant workers at Vegas Auto Spa in Brooklyn and car wash workers from across New York City. Elected officials and faith leaders also joined in support. Demonstrators undertook a 10-block march through the Park Slope neighborhood of Brooklyn and blocked the streets outside Vegas Auto Spa.
"These workers are not just hardworking men and women, they are part of our family. And, like every family, we will stand and fight for them. They've earned the right to be treated better and fairly. We stand together to demand not only the better wages they are owed, but the right that every worker has to be treated with dignity and respect on the job," Perrone said. "This is about the right of low-wage and immigrant workers across America to have their voices heard."
Workers at Vegas Auto Spa have been on strike since November shortly after they sued the car wash owner for hundreds of thousands of dollars in unpaid wages and damages. The workers voted unanimously to join the RWDSU in January. The owner has repeatedly refused to settle the dispute with workers and engaged in threats and retaliation.
Some workers report being paid less than the minimum wage and not receiving time and a half for overtime. Others report working 70 to 90 hours a week. The workers have gone to court, alleging they are owed back wages and damages. They have also filed complaints with Occupational Safety and Health Administration (OSHA) about unsafe working conditions and not receiving the proper safety equipment to deal with the toxic chemicals used to clean cars.
Vegas Auto Spa was the tenth New York City car wash where workers voted to join the RWDSU/UFCW as part of the WASH New York campaign. Demonstrators urged the New York City Council to pass the Car Wash Accountability Act, legislation that would crack down on unlawful employers and bring transparency and accountability to an industry that has a history of mistreating its workers.