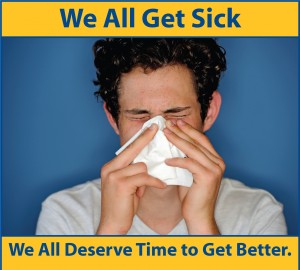 Recently Senator Patty Murray and Congresswoman Rosa DeLauro reintroduced the Healthy Families Act, federal legislation that would allow workers to earn up to seven paid sick days. Twenty jurisdictions nationwide—three states and 17 cities—have adopted paid sick laws. That's a four-fold increase since the Healthy Families Act was last introduced in March 2013. However, despite this substantial progress, nearly 43 million workers still don't have access to paid sick days and more than one-third of U.S. states have never passed a single law recognizing the dual demands of work and family.
Members can help working families and support the Healthy Families Act by:
Contacting your members of Congress and ask them to be a cosponsor of the Healthy Families Act, which would give people the security of earned paid sick days.
Visiting www.WeTweet.org: Enter your zip code to find your Members of Congress and automatically send a tweet in support of the Healthy Families Act.
Calling the Capitol Switchboard to be connected to your representatives: (202) 224-3121
Writing a letter or sending an email: You can find your legislators' contact information on www.senate.gov and www.house.gov.
Helpful talking points on the Healthy Families Act:
The Healthy Families Act would allow workers in businesses with 15 or more employees to earn up to seven job-protected paid sick days each year to be used to recover from their own illnesses, access preventive care, provide care to a sick family member, or attend school meetings related to a child's health condition or disability.
Workers in businesses with fewer than 15 employees would earn up to seven job-protected unpaid sick days each year to be used for the same reasons, unless their employers choose to offer paid sick days.
People get sick. They should not be forced to risk their job and their livelihood due to something they can't control.
Without paid sick leave, employees are at risk to lose their job if a child gets sick or if they fall ill themselves.
Paid sick leave does not negatively affect job growth.
Providing paid sick leave will make every work place healthier and more productive.
The United States is the only developed country that does not guarantee paid sick leave to workers.
75% of adults support a policy giving employees a minimum number of paid sick days.
Paid sick leave will help give working Americans job security and will strengthen the middle class.
In short: When people have access to paid sick days, workers and their families, businesses and the economy do better and everyone has a fair shot at getting ahead.
Additional resources can be found in the UFCW Paid Sick Leave toolkit.