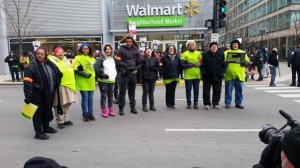 Tens of thousands of Americans protested at 1,600 Walmart stores across the country on November 28, Black Friday, and called on the company to pay associates a minimum of $15 an hour and provide full-time work. The broad group says the country's largest employer and the Waltons—Walmart's majority owners—are abusing their power and hurting American families by allowing Walmart to violate workers' rights. While the
majority of Walmart workers are paid less than $25,000 a year
, Walmart brings in more than $16 billion in annual profits; and the Walton family has built up nearly $150 billion in wealth.
In Phoenix, Sandra Sok walked off the job Wednesday for the first time and said: "Many of us are living in deep poverty and going hungry because the Waltons won't pay us a fair wage. When my coworkers speak out about these issues, the company tries to silence us. For all of my brothers and sisters who have experienced illegal threats, I am on strike." Sandy is paid only $400 every two weeks and has worked at Walmart for nine years.
Reports from protests around the country include:
·        
Los Angeles
: Walmart workers, on strike to protest Walmart's retaliation, and community members carried out a
24-hour fast outside a Walmart store
in protest of the hunger that Walmart and the Waltons are forcing onto many of their families.
·        
Washington, DC
: A live band played to support striking workers outside the District's new Walmart, where a group of 
workers held a sit-down strike
on Wednesday. This is the first time that workers at the new store in Washington and in neighboring Virginia went on strike.
·         Albuquerque: A group of "Raging Grannies" sang to show their solidarity with workers.
·         Denver: Santa Claus, his elves, Walmart workers, and hundreds of community supporters delivered a bag of coal to Walmart.
·        
North Bergen, New Jersey
: Members of the clergy delivered a
symbolic food bin
to the store while chanting "dignity, not charity."
Photos from all of the actions can be found
here
.
Walmart workers started walking off the job last Wednesday in cities nationwide. Inspired by
workers in Los Angeles who held the first-ever sit down strike in company history
, associates in Washington, DC held a sit-down strike at the new store on H Street. Workers in Washington, DC and Virginia went on strike for the first time and were joined by workers who walked off the job in cities and towns nationwide.