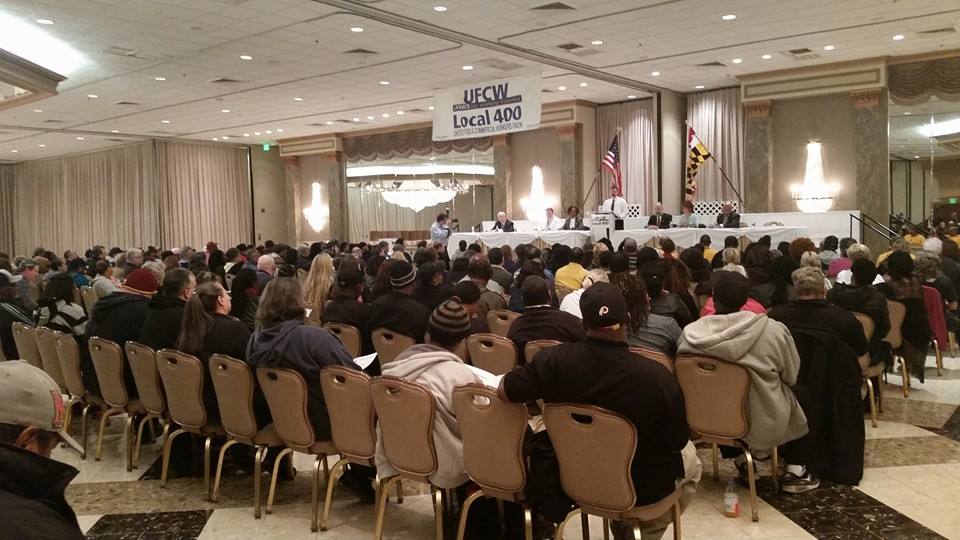 Last week, UFCW Local 400 members working at Shoppers Food & Pharmacy overwhelmingly ratified a new, three-year collective bargaining agreement that increases their wages and maintains their health and retirement security.
The contract culminates a months-long, difficult round of bargaining that required multiple extensions of the old agreement to resolve complex issues, many of which revolved around increased costs imposed by the Affordable Care Act. The workers' success was due to a sustained campaign that mobilized support from Shoppers customers and the community, with members of the bargaining advisory committee visiting every store in the area.
"Because our Shoppers members stayed strong throughout this challenging process, they won a collective bargaining agreement that improves their standard of living and keeps their comprehensive health and pension benefits," said Local 400 President Mark P. Federici. "This is a solid contract that compares well to others in the industry, and it's testimony to the power of member activism. It also gives our members one more thing to be thankful for two days from now."
"It took a lot of hard work, but we stuck together in solidarity, and it all paid off," said Jose Mercado who works at Shoppers #2615. "I think it's a fair and good contract."
"I feel good about the contract," said Kevin Freeman of Shoppers #2618. "We touched base on all the issues people had in the stores and it was a good outcome. I was really glad to be on the bargaining team—it was a great group. Now we just have to keep moving forward."
"We earned this contract through our actions in the stores," said Chartel Scott, who works at Shoppers #2653. "I'm proud of the strength we showed through this long process."
"Together with our union leadership we stuck together, didn't give up, and got the best deal possible," said Keith DeWitt, who works at Shoppers #2646. "Our hard work has paid off."
Key provisions of the contract include:
Guaranteed wage increases of up to 90 cents/hour over three years, with all of the agreement's financial benefits coming in the form of permanent raises rather than one-time bonuses.
Increased employer contributions to fully fund pension benefits.
Health care maintenance of benefits, which ensures that Shoppers will contribute whatever is necessary to the health care fund to pay all benefits.
Spouses will continue to be covered under the health benefit plan.
Overtime will continue to be paid for work exceeding eight hours in any day.
Sunday will continue to be treated as separate from the basic work week.
The agreement, which affects 2,500 workers in Washington, D.C., Maryland, and Virginia, takes effect retroactively as of July 13, 2014, and it expires on July 8, 2017.