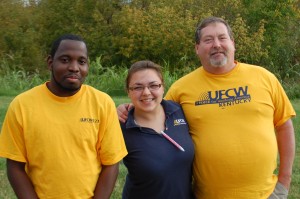 Members of UFCW Local 227 are knocking on doors, making phone calls, and visiting worksites in an effort to get out the vote in Kentucky.
The Bluegrass State is home to one of the most hotly contested Senate races in the country. Republican Senator Mitch McConnell, who introduced national right to work, is facing a fierce challenge from Kentucky Secretary of State Alison Grimes. Local 227 members Chuck Duckworth, Chawan Morgan, and Abigail Shake—all employees of Kroger—have been working hard to get Grimes across the finish line.
"McConnell has sucked the life out of Kentucky," said Morgan. "We need a fresh face, some new ideas, and a different direction."
"Alison Grimes understands our struggles," Shake agreed. "She's not Washington—she's Kentucky."
McConnell's support for right to work and the close battle for control of Kentucky House of Representatives has brought the issue of workers' rights front and center.
"We're the only southern state that's not right to work," Duckworth said. "I think this election is very important to keep it that way."
"I have job security, health insurance, annual raises, equal pay and so many other benefits," Shake added. "Right to work would take that away."
The Local 227 members all talked about the importance of reaching out to their coworkers. "For me to go to a door and see a single mom raising three kids on her own, working a job and doing everything she can to get by, for me to help educate her about how to make life a little easier, that's what is important," Shake said.
Or as Morgan put it: "It's about solidarity—being united and strong."