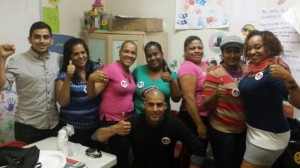 Workers at the Knickerbocker Avenue location of Shoppers World in Brooklyn, New York – some of whom have worked minimum wage for as long as ten years – have taken the first step toward improving their jobs and their lives by voting overwhelmingly to join the RWDSU Local 1102.
The vote was 25-5 in favor of joining the RWDSU, rebuffing an aggressive anti-union campaign by management filled with threats, false promises, and misinformation. Workers at Shopper's World wanted dignity and respect on the job, as well as a path toward increasingly stagnant and low wages.
Shoppers World sells school uniforms and other apparel.