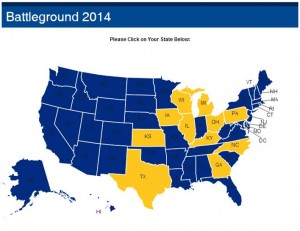 UFCW members must be prepared for the November 4th midterm elections – 2014 cannot be a repeat of 2010. To help make it easier for members to engage politically, we have launched Battleground 2014.
Battleground 2014 provides information about the most important Congressional and Gubernatorial races. UFCW members will be able to use this site to find out more about the candidates and access important voting information and deadlines.
There is a lot at stake on Election Day this year. At the federal level, control of the U.S. Senate is on the line.
Republicans are only six seats away from controlling the Senate and seven of the most vulnerable seats up for election this year are currently held by Democrats. We must work hard to ensure the Senate does not fall into anti-worker hands.
Gubernatorial elections are just as important. Governors from Michigan, Ohio, Wisconsin, and Pennsylvania, all of which spent the last four years attacking workers, are now up for reelection. They need to be shown that when you hurt workers, you lose elections.
Please share Battleground 2014 with your membership. Workers who are more informed about politics are more likely to vote and make a difference.