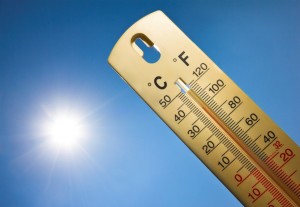 A recent UFCW Occupational Safety and Health advisory addresses the issue of workplace safety during the upcoming hot summer months. Heat stress and heat-related illness are both issues that can easily arise in a workplace that does not appropriately prepare workers for physical work in the summer. The Safety and Health Office's advisory has created the following employer checklist to ensure a safe workplace for all workers:
Adequate, accessible drinking water (recommended one quart per worker per hour).
Regular rest breaks or periods in a cool area, in accordance with heat and workload.
Increased air circulation, air conditioning, and ventilation.
Worker awareness of the early signs and dangers of heat-related illness and the ability to take a break should these signs arise.
Work acclimatization for new workers (allow one week for the body to adjust to working in the heat).
The advisory can be found here. For more information about heat and heat-related illness, you can contact the UFCW Occupational Safety and Health Office in Washington, D.C. at 202-223-3111.